Family History 4 All
Learn how to trace YOUR family tree.
Newsletter No.9 – June 2007.
Family Tree Maker UK Edition 2006
1. Our welcome message.
2. Featured Article – Organizing Family History Records By Marina Garrison.
3. Help wanted - Ackroyd links...
4. Latest news from Ancestry
5. What's new on our site?
6. Next month's article.
1.
I hope this message finds you all in good health. This past month has see another increase in subscribers, so to all our new subscribers a big welcome and we hope you enjoy our newsletter. And to all our subscribers – if you have an article or amusing story to share with us then please don't be afraid to send it for publication…you can remain anonymous if you prefer but we want you all to feel you can contribute if you want to. Just send an email with the words 'Newsletter item' in the subject box. And we will include it at the first opportunity, subject to editing, if necessary of course.
Due to some technical difficulties (mainly links not working properly), we have decided that future newsletters will be 'Online only'. We hope this does not spoil your enjoyment of our newsletter.
I hope those of you in the UK have survived the recent wet weather. Here in South Yorkshire we have had it very bad with some people seeing their homes ruined by the deluge. I've seen sights that I have never seen before in this part of the world.
Thankfully as I write this newsletter the rains have stopped. Lets hope that the sun shines tomorrow.
Here's the link to the archives so you can refer to previous issues:
2.
Organizing Family History Records By Marina Garrison
One of the most common questions I get asked is, how to organize the stacks of paper, certificates, pedigree charts and family group sheets that you collect while doing your family history.
Over the 15 years I have been researching my family history, I have developed a method of organization that enables me to always put my hands on the items I am looking for once they have been filed using this system.
While this method has been designed for use with a ring binder, it can also be adapted for use with the hanging file folders that go inside a file cabinet, and I have provided instructions for both methods.
The advantage to using ring binders is that you will have a "coffee table" type family history book(s) that visitors and relatives can browse through. The other advantage is that you can take it with you to do research, although if you plan to do this you won't want to put original documents in your ring binder in case you lose them.
Before we begin, I am going to assume that you only have enough records to fill 2 ring-binders (maternal and paternal). If you have more then you can "grow" your system by further splitting your records into paternal grandfather, paternal grandmother, maternal grandfather, maternal grandmother).
Supplies
To get started you will need a supply of either:
For Ring Binder System
2 Ring Binders (one blue = paternal, one red = maternal)

Supply of tabbed dividers in one colour, preferably the larger tabs (I use white large tab), one for each surname

Supply of tabbed dividers in second colour, preferably the smaller tabs (I use manila small tab), one for each couple

Supply of plastic sheet protectors for protecting originals
For Hanging File Folder System
Make sure that you know which size your file system is, A4, Letter, Legal etc, before purchasing.
Supply of hanging file folders (in blue = paternal, red = maternal)

Supply of file folders (if you use colours as above, you can use a single colour. If you were unable to find coloured hanging file folders, then use coloured file folders instead.)
Assembling Your Organization System
Assembly the binders or file folders as follows:
At the beginning of the paternal binder, add one pedigree chart for your father.

At the beginning of the maternal binder, add one pedigree chart for your mother.

In the paternal and maternal binders, add one large tabbed divider for each surname.

Write the surnames on each tab in alphabetical order.

Behind each surname tab, add one small tabbed divider for each direct line couple in chronological order working backwards. Direct line means they would be found on your pedigree chart. Write the couples names on it using the wife's unmarried name.
For example, your paternal binder would contain a tab for your surname (maiden name if female). The first couple tab behind that surname tab would be for your "Father and Mother", then "paternal Grandfather and Grandmother", and so on. Your maternal binder would start with your "maternal Grandfather and Grandmother", note your mother is in the paternal binder with your father.
Example 1:
Paternal Tabs

This is the basis for the system. Now you will be able to file away all those piles of paper as there will be a place for everything.
Putting Away Your Files
Step 1
Start by gathering your records by surname. You will make piles of:
General information about the surname, i.e. not relating to a specific couple, individual or family. This might include lists of people with this surname that don't fit into the family yet.

Correspondence about the family.
These papers will go behind the surname tab but before the first couple tab. This is considered the "general" area for surname related materials.
Step 2
Sort the surname records into records relating to each couple and their children. Put these behind the appropriate couple tab. Start with a family group sheet and then add the remaining documents in chronological order starting with most recent first.
Note:
Records for children up until their marriage are stored with their parents.

Records for children after marriage (when they are direct line) are stored behind their couple tab.

Records for children after marriage (where they are not direct line) are stored with their parents.
Example 2:
A typical couple tab could contain the following records organized by time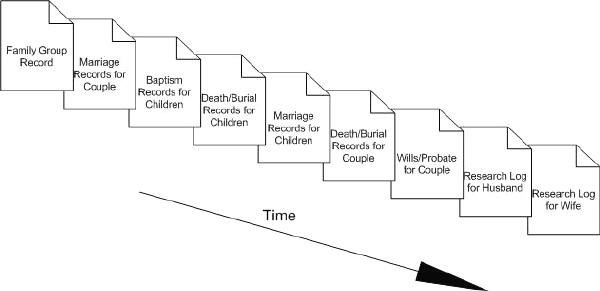 Remember:
If you have original records (certificates and such) put them into a sheet protector in your binder so that they are protected from fingerprints and other harmful substances.

If you

w

an

t

to take your binders out of your house, consider making photocopies of all original documents and putting the photocopies in your binder, storing the originals in a safe place at home.
Growing Your System
Any good system needs to be expandable. I have already mentioned splitting your records at the grandparent level (4 binders) rather than parent level (2 binders) if you have already filled your binders.
Here are some other ways to expand or enhance your system:
If you have a lot of correspondence, consider adding a separate tab for it behind the surname tab that it relates to.

Use your system to display photographs. Scan or photocopy photos onto sheets of paper and insert into your binder. Consider adding a separate tab for photos behind the surname name.

Purchase a binder with clear plastic inserts on the outside. Insert a copy of your pedigree chart for quick reference.
Your organizational system should work for you rather than "run your life". You should customize it and make improvements to it over time to help you find your records. Above all, remember genealogy is both interesting and fun. Don't get bogged down with your files, make them work for you.
About the Author
As a lecturer and writer, Marina Garrison's specialty is the integration of genealogy and technology. She serves as Assistant Family History Center Director for the Kelowna, British Columbia Family History Center and is also responsible for staff training. Her speaking experiences include 5 regional conferences and local genealogical groups throughout British Columbia. You can e-mail Marina at genealogy@hamersleyfamily.com or visit www.hamersleyfamily.com
3.
Help wanted - Ackroyd links...
My wife Carol and I have been researching our family tree now for almost 10 years. During that time we have researched many thousands of names from all over the world. Most of our research is based in South Yorkshire (Take a look at her site)
Kent Ackroyd has also been researching his family history for considerably longer than this. Kent's family history merges with ours several generations back! (Take a look at Kent's site)
We all know that the Ackroyd name started in the old West Riding of Yorkshire. Indeed there are thousands of Ackroyds all over West Yorkshire today but we can't find the missing link that will take our research back into West Yorkshire.
So, if anyone has any ideas or information that would help us, we would be very grateful for your help.
4.
Latest news from Ancestry.co.uk Ancestry.co.uk - Subscribe today
Ancestry just keeps on getting better - recent additions include the completion of all available census information. The slave registers. WW11 newsreels that can be viewed online. More phone book information being added regularly. The list goes on.
Family History For All highly recommends Ancestry.co.uk to it's readers, why? because it is great value. It saves us time (much needed time when you have several web sites to run plus family commitments etc.) It also saves us a great deal of money, money we would spend visiting archives and research rooms up and down the country.
Give it a try now! If you are not sure if it's for you then why not take a 14 day free trial first. 14 Day FREE trial
There's no obligation, simply cancel before the end of your free trial if you find you don't want to continue.

,
5. What's new on our site?
We've had a bit of a spring clean. There's a new search box at the top of each page which is very handy for searching this site, our holiday/vacation site, our phone site or to browse the web. So please make use of it if you feel an urge to search!
6. Next month's article.
It's always difficult to know exactly what to put in the newsletter but I hope you find our articles and content to your satisfaction. If you have an article you would like published then let me have it and I will publish it in the next available slot. Send it to: publish2002ATyahoo.co.uk (replacing the AT with @ of course) Please put 'Newsletter Article' in the subject box. And don't forget to say if you want your contact details published. If you don't tell us, they will not be published.
Next month we will be looking at Australia. If you have relatives/ancestors in Australia, then don't miss this article which will include some great Australian web sites.
That's all for this month folks…see you soon.
Jim. Editor
PS. Please forward this newsletter to your friends/relatives, if they are interested in family history, with our compliments.
If this newsletter was forwarded from a friend/relative and you would like your own copy, you can sign up here: http://familyhistory4all.co.uk/newsletter.htm
Email: publish2002ukATyahoo.co.uk
Or: jimATfamilyhistory4all.co.uk - replacing AT with @ of course.
Jim Ackroyd. Address: 12 Avondale Road. Doncaster. UK. DN2 6DE
Take a look at our other web sites here: http://jamesackroyd.com
PS. For our UK subscribers. If you like to have a flutter on the National Lottery, Use this link: http://playlottery.at/A1Shopping I buy my lotto tickets online as it's much more convenient. (It is normal to find the site closed on Wednesday and Saturday evenings GMT. Just try the next day)